EBM Magazine n°2 Interview of Groupe-t (april 2009)
How GROUPE.T was created ?
I founded the groupe t in 2001, rather out of necessity than for the sake of art, the musical creation being an exutory to political powerlessness.
It started with two self produced albums that found very few distributors. Afterward, it was sheer folly to try such an enterprise, without a label and in the beginning of the CD crisis ! But in that time, no other mean of existence were available.
However the project survived, mainly because of the strong support of a small but motivated community of people that believed in it.
Your work is free download , why this ?.Do you had difficulties in finding one record label ?, but i know , that i can to buy your initial works in INFRAROT , what happens?
By the time of the next two productions, high rate connections became widespread, and it was possible at last to distribute our work widely and at no cost. A little revolution in the world of music ! This mean of distribution, using the myspace network, has been very satisfaying – and effective: Electronic Warfare hit a hundred of downloads for the first day of its release!- and we intend to keep on that way, CDs are more and more obsolete, they are expensive to produce, and you can't send them all over the world for free ! We're very proud to have listeners in so many countries that true distributors could'nt reach.
So I think now that the groupe t has found its label: the evergrowing network of supporters that spread our music freely!
Why that name ?
The name of the project come from obscure sections, we're not even sure that they've existed, of the KPD –the german communist party before WWII- that worked inside the party to enhance the morale and discipline of the comerades. The ultras amongst the ultras! It is a strong reminder of the project basis: it is intended to be an "extreme music for extreme people" on the left wing side.
I read that you define your style as – Electro/Communism – is it true ? Your music revolves around the Soviet Communism , or is not quite true?
Let's make the things clear. Yes, I'm a militant of a communist and revolutionnary organisation (trotskist), and the wrongs of capitalism are –I guess- what is pushing me to create. A comerade of mine find that term of "electro-com" and I found it was a joke worth relaying. But music and politic are two different things, when I'm doing music, I'm not doing politic, politic is a serious matter, don't expect me to waste my time with the groupe t if there is a revolution on the run ! On the opposite, writing a song is not writing a political text-it would be so boring to listen ! – musical creation needs no bounds and if I use a soviet imagery, it's only because I find it inspiring.
I like to think that music is a "by-product" of my engagement.
How do you compose your music ? What is more important, the lyrics or the sounds ? , Hardware or software ? and also want to know , if you have many musical influences .
Technology also had a major impact on our recent albums – De Oppresso Liber and Electronic Warfare- that have been produced with only a PC and no hardware. With a single computer you now have access to a limitless array of synthies.So I could concretize one of my childhood dream and emulate my favorite band ! Another revolution in the electronic world !
Lyrics are getting more and more of a concern, the 'Fraction Disco' side project helped me a lot in that, but I'm definitely not a song-writer!
There are many great artists and bands that I listen to and use to compose, but strangely not much in the electro trend, I'm not very satisfied by the bands produced today, maybe because they all sound like one another. It's surprising that the improvements of technology had'nt give birth to EBM leader bands, like 242, Skinny Puppy (or Kraftwerk before them) that were like pathfinders in the electronic world . The german "neat and clean" style seemed to have dominated the market for years but now with the developpement of the music on the internet, it is possible to find very innovative and promising bands. But as far as I know, no band has ever dethroned F242 in their style !
Is it just you that directs everything ? 
Yes and no.
Are important the live acts for GROUPE.T ? , it will be difficult to do concerts for you , is not so?
We're currently working on a live set, with only unrealesed live edits, and yes that's rather difficult because shouting a full hour is hard ! But our recordings are improving and we'll soon be ready for action ! That's our only objective for this year and we're putting all our energy in it!
You have six works , are you satisfied with them ?, did what you wanted ? Tell us about that we can find in your albums
I don't pursue any objective when I make music, I just follow the mood of the moment, maybe that's why one album is different from another but I won't bother with talking about what you can find, Groupe t's work is free, so if you want to have an idea, download and listen !
And to end ,  do you want to say anything else ? ,…referring to capitalism or democracy, maybe ? , …or better about music?
Well, is it really worth reminding here that capitalism is in crisis ? I'd just quote La jeune Garde :" Tant pis si la lutte est cruelle / Après la pluie le temps est beau"
Interview by Rud Dreesen  www.ebm-industrial.nl  (December 2009)
Greetings Thierry could you please shortly introduce our readers your music project Groupe.T?
Groupe T is a Electro Industrial band born in 2001, 6 albums are available on our myspace page, and they're all free, so if anyone wants to have an idea, please download and listen.
It all begins with an urge to make some noise, maybe to cry out some political frustration, especially at the start, the music could be qualified as an "extremist"-in an artistic sense-Electro/EBM style.
What and who are some of your influences in EBM
As it should sound obvious, Front 242 is still the reference, the first three albums are, from my point of view, the best of all time, marrying a near future science fiction atmosphere with powerful/rythmic music, all with a cold war apocalyptic background.
 Tell one secret about Groupe.T that you have never told to anyone?
Secrets are to be kept secret.
What is the main idea, the message you want to leave to people who listens to you? What is your motto?
De Oppresso Liber could be a fine motto! Political message are more explicit when you use words and arguments rather than lyrics, wich are always too simple to express complex ideas, so I have no "message" that words could tell, take the whole music as a message and if it tells you something, fine.
As an example, when "Expression Totalitaire" was composed, I had no idea that it would incarnate the securitarian bend of the French state with the rise to power of Sarkozy, but when we play it now live, it becomes obvious.
What's the name of your band? What's the origin of that name? Have you changed the band's name before?
The name of the band come from a special squad formed in the 20's by the KPD (the German communist party), that were to prepare the workers' uprising infiltrating the army and the police. Some people have been speculating about the T, (terrorist?) that's interesting !
Groupe t/Fraction Disco has been the only other name used to mark the more "dancing" albums, with the intent of saying that we knew what we were doing.
When you start to record a new album, is all the writing done or does it continue in the studio?
I 've no 'studio', all is made at home using a unique computer and almost no hardware ( a mike !). Composing is a part of my life, I do it because I must, it's like a drive, so it's perpetual and without forethoughts, when I think I've enough songs to release something then I put it on the web, trying to build an unity through all the titles.
Tell me why this title « electronic warfare »? Tell us a few words about the concept of this album?
With the arrival of affordable and powerful computers I realised that I could make one of my dream come true: recreating an electronic studio and make covers of my favorite band (see above) so with EW the concept was to plagiate 242 earlier albums, it was really a pleasure to do it. The whole thing has been done in a very short time (two months, including voice recording), I think I held it in my mind since the beginning!
Do you have a record label? so tell me about te labels?
How is the current promotional tour going for supporting this albums alone in myspace?
How do you see the future of download / Copyright in area of goth-industrial music ? What are the best ways to develop it in your mind ? and your 6 albums for free download?
Record labels, well, at least records alone, are more and more obsolete, nobody listen to CDs, even when I buy a CD, I convert it in a mp3 file to play it on a USB player, a computer, an auto radio…With the lossless format, CDs are really relics from the past. The EW album has been downloaded more than a thousand time from the myspace page, (a hundred time just for the first day of its release), and it is easier to find on Soulseek than some famous and commercial bands, with the advantage of being legal to share !
Music labels have to evolve, I've no lesson to teach them, I'm not in their business but obviously the above performance could'nt have been made with a commercial label. We're proud to be listened to in many parts in the world -not to say the Netherlands !- we make people dance in countries we didn't suspected there was an EBM scene. Internet is an international distributor that is covering more and more regions of the world and it reduce the cost of production and distribution to nothing…a serious challenger indeed!
Being free means no money for the artist, but in the perfect world the workers will build one day, everyone will earn enough from its job to live its passion freely, without commercial considerations, so I really don't care about all these famous artists crying about the money they no longer make selling albums.
You want a better living ? Don't make music but a revolution!
What do you think of a modern EBM and about gothic scene ?
Our usual question – what is EBM for you?
What are your views on the current state of this EBM scene in Frankrijk
.in terms of creativity and audiences? And the scene in other countries?
Beside all that we could hear about the commercial trend of the gothic scene and all the cross-genre that are usually associated to it, I think it's still a dynamic cultural milieu, with open minded people that are not easily rebuked by "out of the norm" music.
The fact is that it's more and more difficult to organize successfull events and gigs, famous bands are expensive and youngsters don't have money. Maybe it's a reason of the actual decline of the genre in France, or maybe we just lack of skilled and courageous organizers: the "Messes Synthétiques" in Marseille gather more than 250 people every session !
What was your best live experience so far?
We have had very few live experiences, three at that day, but all were different, and all were great, thank to the audience, it will definitively influence the future of the band.
Out of all of your album,ore your up coming album,which album would you say is your favorite album? Why?
The first, because it's the more creative. Inferior material and equipement force to greater inspiration…
Do you think that people from the music press didn't expect you to grow up musically?
No, I won't say that, since the beginning we've been supported by a strong if rather small community of  french "Stompers" and it has been noticed by "the press", but commercial publications work with commercial bands. And to be honest, we don't meet the criterias of commercial releases: not politically correct, too much independence, not to mention the sound "quality" ! (though I hope you'll find that the live set approaches the usual standards)…groupe T's music is not for everyone! But it seems that it's just what our supporters like.
What do you do in your spare time?
Oh, maybe you've noticed that I'm a political activist ? And, as it doesn't earn a living, I'm also a schoolteacher. (Yes, I take care of your kids J)
Please let us know about your upcoming plans, some new releases you like to confirm here. Tell me, are there any new bands out there lately that you're into, any tips for the future? Are you working on any current or future projects?What is the future for your music?
We've been busy those years with live shows and repetitions so our next album will be a compilation of the best recordings of our "world tour", old songs almost exclusively in unreleased versions. (Do I need to mention that it will be free again ?)
About "the studio": I'm lending my voice for the new Thanacid album, I'm working on remixes for Lith, Schwester Seziert and of course a new album is in preparation, I wish I could tell you something about it, but I'm not sure myself of what it will look like !
I hope I could summarise all the enriching musical experiences we had these years.
Interview : GROUPE-T


par Olivier CAMUS (2005)

 La formation électronique GROUPE-T nous vient de Lyon et nous présente au travers d'un album en deux volumes les deux aspects de ce qui lui donne vie. Premièrement, sa passion indéfectible et toute personnelle pour l'Electronic-Body-Music des années 80, formatée par le glorieux quatuor belge FRONT 242 ; deuxièmement par son concept historique nostalgique. Thierry Laprade met donc en musique l'époque de notre histoire moderne qui le passionne le plus : le bloc soviétique de l'U.R.S.S d'après la Révolution d'Octobre. La force rouge qui aura permis de libérer les pays de l'Est de l'Europe du joug Nazi durant la Seconde Guerre Mondiale est mise à l'honneur ainsi que tous les thèmes qui gravitèrent autour par la suite (la Guerre Froide, l'avancée du communisme dans le monde, …). Les compositions de GROUPE-T reprennent l'énergie insufflée par la musique électronique de F242 de manière plus saturée et distordue, générant ainsi un côté industriel plus brutal. Le beat synthétique saccadé amène une ambiance martiale austère, tandis que l'omniprésence de samples d'époque ou de propagande communiste et anarchiste vient renforcer le concept du projet. GROUPE-T nous plonge dans la tourmente d'une masse humaine en pleine marche pour la Révolution, au sein des combats pour la liberté et les revendications, sur le champs de bataille, …
Qui compose GROUPE-T ? et d'où vient ce nom de projet ?
Thierry Laprade: La mention du groupe T apparaît dans quelques rares documents où il est cité comme une cellule spéciale du KPD (parti communiste Allemand des années 1920) chargée, entre autre, du renforcement de la discipline à l'intérieur du parti, mais aussi d'actions violentes. Une telle appellation ne peut donc être revendiquée par un ou des individus, aussi le projet musical du même nom tient-il à rester impersonnel et anonyme.
Comment as-tu eu l'idée de monter ce groupe ? Qu'est-ce qui t'en as donné l'envie?
Sans doute est-ce l'impuissance des militants révolutionnaires que nous sommes à peser actuellement sur le cours de l'Histoire qui nous pousse à expulser notre révolte et notre frustration, par un manifeste musical qui n'est pas un acte intellectuel et artistique, mais une réaction, un sous-produit de la rencontre avec notre époque et sa sombre réalité.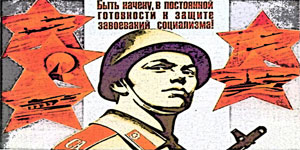 Qu'est-ce qui t'as attiré dans l'imagerie de l'Union Soviétique ? Pourquoi avoir choisi cette époque de l'histoire? Est-ce uniquement l'imagerie militaire de l'Armée Rouge qui t'attire, où également l'utopie politique du Communisme ouvrier? Crois-tu que le Soviétisme ou le Communisme Rouge aurait pu survivre jusqu'en 2005 ? Et si oui, sous quelle forme existeraient-ils aujourd'hui ?
A l'heure du triomphe de l'impérialisme américain, du retour de l'obscurantisme religieux et populiste, de la désillusion de la social-démocratie, il nous a semblé plus que nécessaire de nous affirmer communistes et révolutionnaires en reprennant à notre compte les images les plus emblématiques du seul mouvement ouvrier victorieux que fut la révolution russe. Si les intellectuels bourgeois se plaisent à confondre l'état prolétarien et la caricature stalinienne qui lui a succédé pour le liquider, nous pensons qu'au contraire il faut réhabiliter les idées communistes, seules capables désormais de faire avancer l'Humanité sur la voie du progrès et de la civilisation. Et si les partis dits « communistes », ex-staliniens, s'en détournent tant pis pour eux, quand dans une bataille un drapeau tombe, il appartient à celui qui le relève. L'idéal communiste éxistait avant l'URSS. Il lui survivra. Alors que la formule d'Engels « Socialisme ou barbarie » semble plus que jamais se vérifier, penser que les idées révolutionnaires ont leur avenir derrière elles reviendrait à croire que la classe ouvrière supportera indéfiniment l'exploitation et la rapacité sans borne du système capitaliste. Rêver en un monde où bourgeois et travailleurs pourraient cohabiter en toute intelligence, la voilà l'utopie !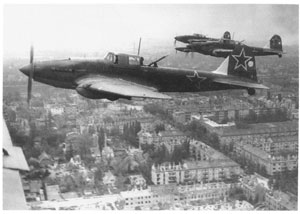 Comment pourrais-tu définir ta musique? EBM, indus, la rencontre des deux …?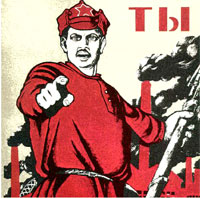 S'il nous est arrivé d'être répertorié 'electro-com' (pour electro communiste bien sûr…), le groupe T se classe plus souvent dans le bac 'industriel', ce qui lui permet de se retrouver entre Genocide Organ et Haus Arafna, place beaucoup plus convenable et prestigieuse que celle du rayon 'electro' (entre God Module et In Strict Confidence si vous voyez l'allusion…). Il n'est pas de notre ressort de nous choisir une étiquette ce qui serait plus réducteur qu'autre chose.

Et si je te dis qu'il n'y a pas plus prolétaire que la musique EBM, Indus et plus globalement « electro », es-tu d'accord ? Que répondre à ceux qui y verrait un quelconque aspect fasciste ou élitiste ?
Terrain glissant. Classer une musique 'prolo' parce qu'elle est simple et efficace c'est donner des arguments à ceux qui souhaitent confiner les masses dans la sous-culture, jugeant le hip-hop et le tag, quand ce n'est pas la Star Academy, comme les arts du peuple. Nous ne souscrivons pas à ces idées. La classe ouvrière peut avoir accès à tout pour peu qu'on lui ouvre l'accès à l'éducation. Les ouvriers Russes furent un temps grands amateurs d'opéra. Par contre, nous faisons une différence entre des musiques tournées vers l'action, comme propres à susciter l'envie d'agir et d'en découdre, par opposition à celles tournées vers l'introspection et la contemplation que nous laissons volontier aux amateurs de paradis artificiels et aux eternels rêveurs. Autrement dit, l'EBM serait plutôt la musique dont la classe ouvrière aurait besoin! Quant à ceux qui traitent de fascistes les musiques extrêmes…On dit que l'imbécile a peur de ce qu'il ne connait pas.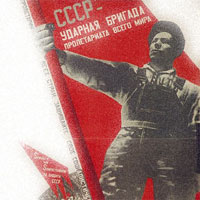 Récemment, GROUPE-T a remporté un succès assez significatif chez les fans d'EBM, surtout grâce à sa production sonore très brute. Est-ce que tu vas continuer à garder ce grain si particulier?
Parler de succès reste bien présomptueux. Cet aspect du groupe T reste très controversé. A l'origine, il n'y a que la volonté de faire écouter la musique telle que nous aimerions l'entendre. Le mastering et le mixage sont, dans les musiques electroniques, des composantes artistiques essentielles qui ne peuvent être délaissées aux seuls techniciens de studio. Il y a sans doute beaucoup à explorer de ce côté là et il est bien dommage que les 'Majors' de l'electro préfèrent se confiner à un format standard bien rodé, alors qu'elles devraient au contraire prendre la responsabilité de promouvoir les initiatives artistiques. Qui a dit que le capitalisme poussait à l'inovation ? Nous aimerions conserver ce rendu tout en gagnant en maîtrise technique.
Peux-tu nous raconter l'origine du sample de manifestation que l'on retrouve sur le morceau « Demonstration Day » ?
Un certain nombre de samples proviennent des manifestations de 1995, principalement du cortège d'EDF-GDF, qui avait pour ces occasions un groupe efficace de batteurs de bidons… Le morceau tente de rendre compte de l'ambiance et de la tension de ces journées inhabituelles. L'auditeur attentif aura peut-être remarqué en arriere plan des éclats de voix de CRS à l'entraînement.
Peux-tu nous en dire plus sur le triptyque en hommage à l'Armée Rouge que l'on trouve sur l'album « II » ?
Simple déclinaison Terre-Air-Mer d'un concept.
Quels sont tes projets en cours actuellement ? des remixes ?
Est-ce que tu as un « III » en préparation? Si oui, à quoi doit-on s'attendre ?
Le processus créatif est continu et incontrollable. La question reste: qu'est-il interessant de faire entendre ? Le groupe T espère sortir un 'III', impossible de savoir actuellement ce qu'il contiendra. Void Kampf et Thanacid nous ont confié des remixes, qu'ils soient remerciés ici pour leur confiance. Une alliance avec les Muckrackers est en cours de tractation…Tout un programme !